Colleges

So here's the con so far. You must go to college because you're screwed if you don't. Costs are outrageously high, but you pay them because you have to, and because the system makes it easy to borrow massive amounts of money. The third part of the con is the worst: You can't get out of the debt. Since government lenders in particular have virtually unlimited power to collect on student debt – preying on everything from salary to income-tax returns – even running is not an option. And since most young people find themselves unable to make their full payments early on, they often find themselves perpetually paying down interest only, never touching the principal. Our billionaire president can declare bankruptcy four times, but students are the one class of citizen that may not do it even once." Matt Taibbi, Rolling Stone
"MAKE TUITION FREE AT PUBLIC COLLEGES AND UNIVERSITIES. This is not a radical idea. Last year, Germany eliminated tuition because they believed that charging students $1,300 per year was discouraging Germans from going to college. Next year, Chile will do the same. Finland, Norway, Sweden and many other countries around the world also offer free college to all of their citizens. If other countries can take this action, so can the United States of America. In fact, it's what many of our colleges and universities used to do. The University of California system offered free tuition at its schools until the 1980s. In 1965, average tuition at a four-year public university was just $243 and many of the best colleges – including the City University of New York – did not charge any tuition at all. The Sanders plan would make tuition free at public colleges and universities throughout the country." Senator Bernie Sanders
"In other countries in the developed world you don't have such massive student debt because you have more public support to higher education, ... And I think the plan that was proposed earlier this year in 2015 by President Obama to increase public funding to public universities and community college is exactly justified." Piketty (3/23/2015)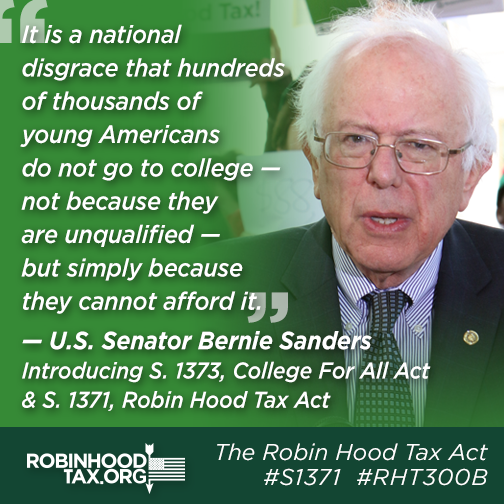 Student Loans: The Right's Hidden Agenda (3/23/2010)



Open Education
EdX Free Courses From Harvard, MIT, Berkley
Coursera Courses on-line for Free

The University of the People offers on-line, free tuition, higher education.
Did you know that MIT has a lot of their curriculum on-line ?

UC Berkeley is making entire video courses available on youtube.
See also the education page.
Text Books
Open Source Textbooks in Connecticut
Project Gutenberg has a catalog of 19,000 books which are free to download.
FreeLoad Press offers free downloadable text books (they include advertising.) Considering the cost of text books this is a very good idea although not a particularly new one. Local libraries also offer ebooks.
TextSwap (Trade textbooks on-line.)
Issues
The Corporate Corruption of Higher Education
About academic freedom
Links
Bibliography
Degrees of Inequality: How the Politics of Higher Education Sabotaged the American Dream: Suzanne Mettler

Excellent Sheep: William Deresiewicz

Universities in the Marketplace: Derek Bok
Excellent Sheep: The Miseducation of the American Elite and The Way to a Meaningful Life: William Deresiewicz

The Fall of the Faculty: Benjamin Ginsberg
University Inc.: The Corporate Corruption of Higher Education: Jennifer Washburn